"The music is wonderful and the order and download process was easy and flawless." - Joe Earls, Columbus, GA, USA


Deep Calls to Deep - Soaking Music for Contemplative Prayer and Worship
Gentle soaking music cd. One hour of anointed, restful, healing music. A wonderful aid to nurture our desire for more of Him.

Deep Calls to Deep - Instrumental soaking music -
INSTRUMENTAL ONLY VERSION
Easy-listening, instrumental soaking music featuring piano and acoustic guitar for christian meditation and prayer. This is the instrumental-only version of the album by the same name.

O4eyes2C DVD
With the trademark touch of intimate worship, O4eyes2c captures our longing to know more deeply the love of our Creator. An inspiring artistic journey combining painting, music and spontaneous dance.


The Secret Place 2 - Passionate Pursuit
This is the second cd in the Secret Place series - a journey of worship designed to ignite our passion for God and bring us closer to Him. Nine original songs - one hour of unforgettable anointed worship.

The Secret Place 1 - Seek My Face
The first cd in a new series from "The Secret Place" - a truly unique and intimate worship experience. Prophetic, intimate, spontaneous, unique worship cd.
$13.98


Buy CD
$9.98
Download
Album
$14.00
Buy Music
Book
$9.98
Download
Sheet Music


Pursuit of His Presence - Spontaneous Soaking Worship
Live, spontaneous soaking worship cd from Pursuit. This is not a studio produced cd, it is raw worship from our Sunday morning services that captures something of the presence of God that we long for.


Rise Up
An upbeat joyful gospel music cd which cruises through several praise numbers with rich "big brass" orchestrations, before landing into some softer material featuring salvation themes and intimate worship.

Throne Of Love
"Quality contemporary music which incorporates elements of rock, jazz and classical, presided over by Watson's soft Garfunkel-like vocals."

Highways To Zion
A journey of the heart. Contemporary christian praise and worship music cd.
Our first album recorded in 1984 - A classic!!

The following cds are highly recommended instrumentals by Peter Robertson - an anointed musician from Australia who does all of the guitar work for The Secret Place albums. Create a peaceful, restful atmosphere in your home, work or car. Sit back and relax and let the music take away all the stress life can bring. This easy listening music features gentle acoustic guitar and piano, with laid-back melodies and the ocassional soft sax. Let the music quieten you as you rest in a peaceful ambience.

Peace
Create a peaceful atmosphere in your home with this instrumental music cd. Let this beautiful peaceful music take you into a world of tranquility and serenity.

A Time To Dream
Steal away for a moment and allow this music to quieten and relax you. Create a soothing, carefree environment with these delightfully soft melodies.

Rest
In the busyness of life we seldom take the time to quieten ourselves to hear that "still small voice". This beautiful guitar instrumental cd will help you quieten yourself, meditate on the greatness of God and allow your heart to instruct and lead you.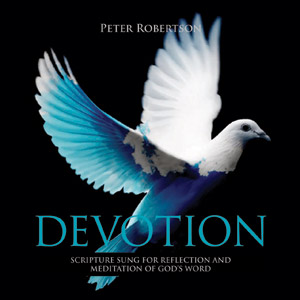 Devotion - by Peter Robertson
Beautiful musical arrangements of some of your favorite verses captured in song, for the reflection and meditation of God's Word.