Passionate Pursuit

The Secret Place 2 - A Journey of Passionate Worship

Check Out »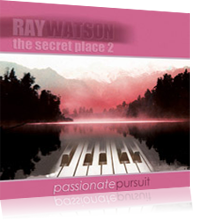 "Every note that is played, every word that is sung seems to carry the presence of God"
- Crossrhythm.co.uk
This is the second cd in The Secret Place series - a journey of passionate worship designed to ignite our passion for God and bring us closer to Him. More Info
To Purchase
Click Add to Cart on the item you wish to purchase. It will be added to your shopping cart. Your order will be processed securely through 2CO. Please provide correct billing address and email to ensure proper processing. You may change or cancel your order at any time.
If you are downloading, you must click on the final link to receive your downloads.



Download Album

$9.98
Download album mp3s with no shipping costs. Load to CD / iPod / mp3 player. Bonus lyrics / chord charts.
Preview
Add to Cart »

Buy Music Book

$14.00

Purchase the music book containing sheet music for all songs.
Preview
Add to Cart »

Download Sheet Music

$9.98
Download the sheet music in pdf format. Includes bonus chord charts, lyrics and midi.
Preview
Add to Cart »


This cd encourages us to reach for the heart of God and be passionate in our pursuit of Him. It is from this deep place of affection that God desires our worship. This album is not just a collection of songs but a journey of worship with a theme that develops and grows more prayerful and intimate, drawing us into the heart of God.
Passionate Pursuit follows the invitation of the first album Seek My Face. The orchestrations are rich and interesting while providing an intimate encounter with the Lord. After a short "call-to-prayer" instrumental introduction, the album opens with some refreshingly transparent, intimate and almost child-like conversations with the Lord, which sets the tone and direction of the album. The middle section gently lifts us out of meditation mode for a season, but the album does not lose its feeling of intimacy. The last 3 songs on the album are "soaking" songs - quiet, reflective songs that enable you to sit back and soak in the presence of God. This section alone lasts for over 20 mins and is ideal for a prayer-soaking session.
As an introduction to The Secret Place or as a follow up to number one, Passionate Pursuit is a refreshing experience for anyone hungry for His presence. It is my prayer that as you participate in this journey of worship you will be transported into His presence where you are so captivated by Him that you will gladly lay down your life in pursuit of the greatest privilege ever offered to man - to be a lover of God.

Review This Album
Submit Your Comments Or Review Below
Every Note That Is Played Seems To Carry The Presence Of God
"This is more than just a collection of worship songs: it is a journey towards the heart of God. Rarely will you hear such intimate and passionate songs sung with such feeling and reverence. It really is a moving experience and the listener is made to feel like a welcome visitor to a private worship session, where they can join the improvisations and share the moments of intimacy with our Heavenly Father. Ray's voice is reminiscent of the great Keith Green and conveys his passion and adoration incredibly well. And he's not afraid to be recorded singing in tongues and improvising. The musical arrangements are simple and effective, with acoustic piano and guitar, with some added synth pads and the occasional flute solo and female backing vocals. Every note that is played, every word that is sung seems to carry the presence of God, drawing the listener deeper, closer. Ray provides a refreshing example of how wonderfully pure and simple worship can be." Andy Cooper - Crossrhythms.co.uk
Customer Reviews
Name: Ivy Ramnath
E-mail: Private
Date posted: May 14, 2013 - 03:34 pm
Message: Scince I have started listening to these worship pieces; there has been a longing to just stay in his presence,it creates an atmosphere for worship. This is definately divine. There's an aura in the air all heavenly. Its a prophetic worship that ministers to your spirit.
---
Name: joanie
E-mail: Private
Date posted: May 13, 2013 - 09:07 am
Message: iLove JESUS and Worship HIM is all i want to do, Thank you very much, GOD BLESS
---
Name: joanie
E-mail: Private
Date posted: May 13, 2013 - 09:02 am
Message: Thank you very much..i love JESUS with all in me and love to Worship HIM. Blessings.
---
Name: rossysal
E-mail: Private
Date posted: April 27, 2013 - 03:21 am
Message: brings me closer to my God
---
Name: Joy Eshiet
E-mail: jomec4real@yyahoo.com
Date posted: April 22, 2013 - 06:03 am
Message: i reli love d gud wrk here,am vry happy 4 dat.i,m a lady who loves music wit passion ,both listenin nd singing,ow can i get ur recent gospel music
---
Name: Letisha
E-mail: Letishamwenda@gmail.com
Date posted: April 22, 2013 - 12:36 am
Message: its awesome
---
Name: Careys Nana Akosua Dwomoah
E-mail: Private
Date posted: April 17, 2013 - 11:06 am
Message: I love music so much n i sing it so well by the grace of the Living GOD, Halelluyah.....
---
Name: Darlene Sydnor
E-mail: Private
Date posted: April 14, 2013 - 06:04 pm
Message: I love music. I also sing and would like to know if I can send in a money order if I like the music.
---
Name: justine
E-mail: justinecduru@gmail
Date posted: April 10, 2013 - 06:09 am
Message: He is great God, I thank him so dearly for his only begotten Son. Jesus Christ of Nazareth. I derived Joy in praising and worshipping him.
---
Name: tomasi biumaiwai
E-mail: tomasi.biumaiwai@facebook.com
Date posted: March 28, 2013 - 08:11 pm
Message: praise be to god..keep up the good work..
---