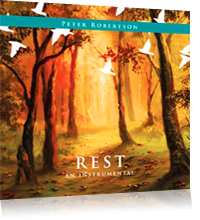 "I have personally enjoyed listening to Peter's music, and a particular favourite is his instrumental masterpiece "Rest". You can literally discern the anointing of rest in this beautiful work. I have no doubt that you will experience the gentle refreshing of the Holy Spirit as you allow Peter's music to wash over you." - Joseph Prince, Senior Pastor, New Creation Church, Singapore.
"Allow this instrumental music to instantly create a restful environment. The melodies and soft ambience will alleviate the pressures experienced in our stressful world. Take time to rest and quieten yourself with this beautiful guitar instrumental." - Peter Robertson
This cd is a highly recommended instrumental by Peter Robertson - an anointed musician from Australia who does all of the guitar work for The Secret Place albums. Create a peaceful, restful atmosphere in your home, work or car.



To Purchase

Click Add to Cart on the item you wish to purchase. It will be added to your shopping cart. Your order will be processed securely through 2CO. Please provide correct billing address and email to ensure proper processing. You may change or cancel your order at any time.
If you are downloading, you must click on the final link to receive your downloads.

Download Album

$9.98
Download album mp3s with no shipping costs. Burn mp3s to CD, or load to iPod / mp3 player. Downloads will be made immediately available upon purchase.
Preview
Add to Cart »