PART 1
Colossians 1:27 "Christ in you the hope of glory."
As believers in Christ we have an amazing gift – hope. The world is desperate for hope. Romans 5:5 tells us that the hope we have does not disappoint us, because the love of God has been poured out in our hearts by the Holy Spirit who was given to us. Christ living inside us is our hope!
I watched a TV program about the Muslim faith, and I found it so depressing! I am amazed that so much of the world has accepted this depressing religion – especially the women. Today we have western movie stars and famous singers converting to Islam, and it baffles me. Here is a quote from the Quran: "The life of this world is nothing but the enjoyment of delusion."
I have never heard of a Christian suicide bomber. And that is because the Christian faith is one of hope and joy – in this life, not just the next.
The Muslim terrorists blow themselves to pieces in the name of Allah hoping to find themselves in paradise with 70 virgins. But reality finds them facing 70 demons in hell, with no hope forever. What a religion – no hope in this life or the next!
But Jesus said, "I am the way, the truth and the life….. I have come that they might have life, and have it more abundantly."
David said, "I would have despaired unless I had believed to see the goodness of the Lord in the land of the living."
JOY & HOPE. That's what makes the difference! Our hope in Jesus Christ is a very real and tangible presence. Since He lives within us, Christ IN us is our hope. God has not left us alone.
A dear friend did a painting for our church during one of our Encounter evening services.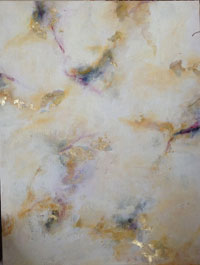 She describes the prophetic symbolism behind her art work as follows: "As I waited on the Lord for direction for this painting I heard just one word – HOPE.
Sometimes life is hard – health, finances, jobs, family – so many areas that we can become attacked in. As I thought about "hope" I realised that worldly hope is fragile – it's a wishful type of hope with no real guarantee of anything good really happening. Scriptural hope is far different – it's a joyful expectation that something good is going to happen for you because God is good. Scriptural hope is robust, it boldly delivers, and it comes with the guarantee of God himself behind it. Hope isn't an idea, a concept. It has spiritual substance that goes to work within us, it's found in a person – Christ! Christ is our hope and he is our guarantee of hope."
"In the painting the colours in the under layers represent the stuff of life, some dart and heavy, some light and joyful. Overlaying that is gold and white representing both hope and glory – God making all things work together for good – coming together to present something beautiful, full of depth and rich in the fullness of Christ's life within us." "Christ in us, the hope of glory." Col 1:27
- Lyn Packer
Lyn actually did the painting twice, because the first time the dark underneath colours kept coming through to the surface. That in itself was a prophetic statement. The dark and heavy aspects of our lives keep trying to overcome the Christ nature within us and make us miserable! But they cannot do so, for greater is He that is in us than He that is in the world! The Christ light always shines through!
Hebrews 6:11 encourages us to maintain the full assurance of hope to the end.
Part 1 - Christ in you the hope
Part 2 - Overcoming adversity
Other Recommended Articles
Hope - An Anchor for the Soul
By the Grace of God
Have faith in God - A song about believing God.