Christian Art Gifts
Beautiful Christian art in live performance accompanied by music and dance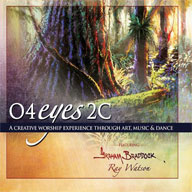 O4eyes2C is a unique presentation of an artist creating a painting before a live audience, combined with the inspiring performance of live music and creative dance. It makes the perfect christian art gift to give to anyone who has an interest in art, music, dance or in christian performing arts in general.
Preview video below.
Click album cover for more info on this album.
"Extremely peaceful and relaxing. It made me feel at rest and sense the presence of God....
Ray's best work yet." - Peter Robertson, Worship Ministries International
Read More
Looking for creative suggestions for Christian arts gifts?
Watch Christian prophetic performing visual arts dvds - combining art, music and dance
This DVD combines the action of live creative art combined with the enhancement of music and dance. It will appeal to anyone in the following situations:

• anyone interested in christian performing arts and creative arts in worship
• anyone looking for christian art gifts
• gift for an art teacher, or a student of art
• worship leaders looking for creative expressions of worship
• people interested in prophetic christian art dvds
• someone learning how to draw

The concept behind this DVD is to help break new ground in our expression of worship, and would be an inspiration for anyone interested in developing personal or corporate worship in the creative arts. Preview the DVD trailer to the right…




A captivating worship DVD featuring christian art, music and spontaneous dance. Click here to listen or purchase
Some of the developmental stages of the artists creative journey are shown in the four pictures above. Starting with a blank canvas, an artistic journey begins as the artist uses chalk and ink to create a beautiful New Zealand bush scene. The concept however is more than that of just painting a beautiful nature scene. By combining the artists developmental stages of the painting with the concept of creating the world out of a formless void, and by using music and dance to enhance these developmental stages, a multimedia artistic journey based of the theme of creation is developed. The end result is a truly unique and rewarding worship experience.
Looking for creative suggestions for art gifts? This DVD/CD combo is a captivating and creative worship experience combining prophetic christian art, music and spontaneous dance. It combines the music of The Secret Place with the added visual dynamic of watching an accomplished and well-known NZ artist Graham Braddock express his worship through art, accompanied by the beauty and inspiration of dance.
Christian art and dance worship DVD - click here for more info and listening and purchasing options

| | | |
| --- | --- | --- |
| Creative Arts | | |
| | | Christian Art Gifts – Christian performing arts, prophetic christian art dvds |
| | | Christian Paintings – Beautiful original Christian paintings, live performance of Christian drawings |
| | | Christian Dance – Christian lyrical dance music video, Christian ballet dance, dancers, dvds |
| | | Dance Worship - Praise and worship through creative christian dance videos dvds |
| | | Worship Flags & Banners - Flag dancing in christian praise and worship church services |
| | | Christian Gifts Ideas - Unique Christian gifts online, inspirational Christmas music cds dvds |