Free Podcast Downloads
How To Download Free Podcasts
Learn how to download and play free podcasts. Find and download podcasts to your iTunes account, iPod or manually download them to your computer.
How To Play A Podcast
You may either download and play podcasts through programs such as iTunes (see below), or you can download the mp3 files manually and play them through the default media player on your computer or mp3 player.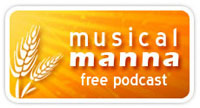 We have our own Musical Manna audio podcast available for streaming from the internet.
Download to your mp3 player, ipod or RSS feed.
How To Download Podcasts Using iTunes
To download iTunes podcasts, you first need to download iTunes. Follow the instructions for download setup. You may then download the free podcast Musical Manna. You can also find podcasts by browsing the iTunes store found within the program. Once subscribing to a podcast, iTunes will automatically download the latest episodes to your computer as they become available. Sync your iPod with iTunes to automatically download the podcasts onto your iPod.
Free mp3 Downloads - Manual Downloading
To download our Musical Manna podcast mp3 file manually without using iTunes or a program, go to the Musical Manna page. The latest mp3 file will be added to the page every time a new podcast is made available at iTunes. Right click and save the file to your computer. After downloading to your computer you can play the mp3 files directly from your computer using the default media player (probably windows media player) or load the mp3 file to your mp3 player. (Follow the instructions for your specific player.)