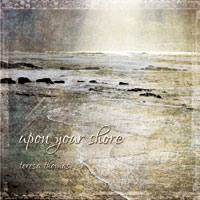 There is a gentleness, yet a deep strength in the beautiful lyrics and melodic tunes of this album. There comes a time after a lot of life's storms when you just want to rest in the Lord. Find strength, peace and a deep sense that God is with you as you enjoy Upon Your Shore.
"Every once in a while you stumble across a song by an unknown recording artist that leaves you wondering, "why haven't I heard this before?" In a world full of wonderful songs, Teresa's music is a rare find. The songs are original and reach the intimate places of the heart. Her wonderful voice welcomes you home, like a dear lost friend. When I'm tired of all the noise, I come home." - Ray Watson, The Secret Place



Listen

Purchase

To Purchase

Click Add to Cart on the item you wish to purchase. It will be added to your shopping cart. Your order will be processed securely through 2CO. Please provide correct billing address and email to ensure proper processing. You may change or cancel your order at any time.
If you are downloading, you must click on the final link to receive your downloads.

Download Album $9.98

Download album mp3s with no shipping costs. Burn mp3s to CD, or load to iPod / mp3 player. Downloads will be made immediately available upon purchase. Preview




Album Information
Teresa Thomas is a native of the suburbs of Washington, DC. From the very tender age of 5, she began writing her own songs. Recognising her talent, her parents enrolled her in piano lessons and purchased a used, upright Cable Nelson advertised in the Washington Post for $100, which she still plays to this day. Her interest in the Classics couldn't hold her attention for long and she constantly found herself drifting away from her sheet music to experiment with her own melodic creations.

Teresa has performed for countless weddings, retreats, worship services and conferences. Her compositions are inspired by Psalms, hymns, devotional writings, and the Hebraic roots of scripture.

Teresa is happily married to her husband Michael and homeschools her three children.
Upon Your Shore CD

If you would like the physical CD of the album Upon Your Shore - they are available for purchase on Teresa's website and at CDbaby.