Preview Sheet Music
Deep Calls to Deep - Soaking Music for Contemplative Praise and Worship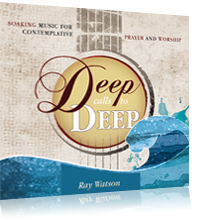 Gentle soaking music. One hour of anointed, restful, healing music. A wonderful aid to nurture our desire for more of Him.
... the rich instrumental orchestrations combined with The Secret Place trademark touch of anointed spontaneous song make this a one hour soaking treasure …
To Download
After your purchase, all of the following downloads will become available. As a sample the first song is available here for free. To listen to the songs use the player below.




Listen

Download

| | | | | | | |
| --- | --- | --- | --- | --- | --- | --- |
| | | | | | | Guitar chords |
| Deep calls to deep | | Sheet music | | Piano sheet music | | |
| Selah 1 | | | | Piano sheet music | | |
| I call you friend | | Sheet music 1 | | | | |
| | | Sheet music 2 | | | | |
| | | Sheet music 3 | | | | |
| Selah 2 | | | | Piano sheet music | | |
| Be still | | | | Piano sheet music | | guitar chords |
| Rest | | | | Piano sheet music | | guitar chords |
| Selah 3 | | | | Piano sheet music | | |
| | | | | | | |
| Zip File | | all files | | (598KB) | | |